Way to Play is a flexible PVC road system that children can build in their own way for their small-world play and games. Interlocking road pieces can make long or short tracks, busy towns or fast races, circuits or grids, inside or outside, wet or dry, with other toys or for its own sake. The road segments are the tools, the children make the rules. 
This simple connecting road toy is the brainchild of a Dutch husband and wife team, who wanted to create something for their own sons that allowed them to play without any rules or specific goals or targets. Something wire-free, without the need for a screen, that they could take anywhere and use in any way they wanted.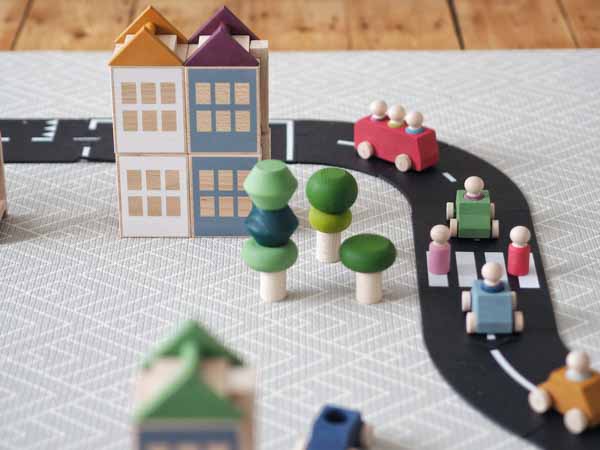 They also wanted to create something with an 'impact first' approach. All Way to Play products are made from 100% child-safe and durable PVC in Germany, then all the pieces are sent to the Netherlands where they are printed by a sheltered employment provider, giving work to people who might not normally be able to access the labour market. 
The result is a collection of Way to Play sets that all work with each other and with any other toys you want to play with, be it dolls out for a stroll, cars in a race or towns you've made from blocks or anything else. From the starter-set Expressway to the larger King of the Road set, every piece in the Way to Play system works with any other piece, so you can keep adding and extending your possibilities. Extension sets like the parking or crossing sets, allow you to create more specific small world settings.
We used to sell toys
Once upon a time we sold toys but now we focus on play. You can still read our popular guides and product reviews and there's a treasure trove of information on the blog.