Keen to get Wobbel boarding but not sure which Wobbel board is best for your family? We've made choosing the right Wobbel board easy, with this comprehensive guide.
What is a Wobbel board?
Wobbel boards, as the name suggests, are boards for wobbling on! They comprise a single wooden arch, that can be used to balance and rock back and forth on. You can do this standing on the board, sitting on it or even lying down (how you use it will change depending on how big you are, and how big your board is. More on this in a sec.)
But actually Wobbel boards are good for so much more than wobbling. When they're not being used in this kind of movement-based play, Wobbel boards can also become props in imaginative play, steps for reaching high-up places, nooks for quiet time, and pretty much anything else you want them to be. There are a number of different sizes, styles and materials to choose from, according to your home and the children (and adults) who'll be using it. Keep reading to find out which Wobbel board is best for you.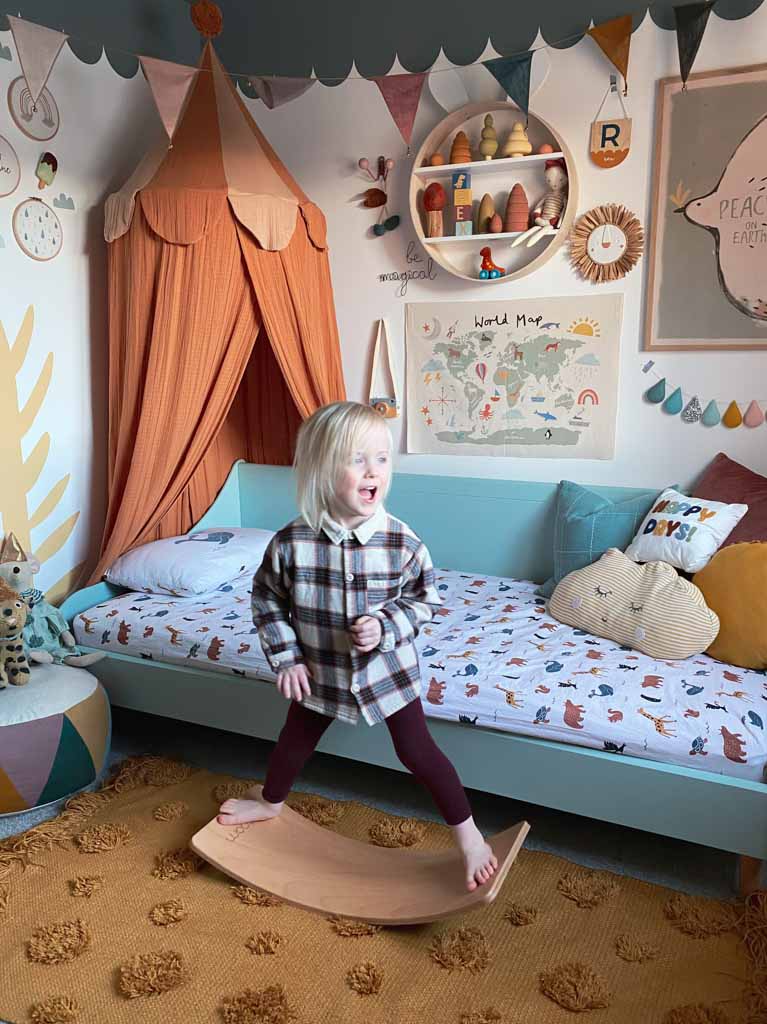 What's so great about Wobbel boards?
Where do we start? These seemingly simple curves might look pretty minimal but they come with maximum play benefits for the whole family. In this sense a Wobbel board is not really a toy at all but an invitation: to move, to imagine, to create. Here are just some of the benefits of playing with a Wobbel board:
Promotes balance, nimbleness and core strength, leading to physical confidence and motor control
Inspires creativity in imaginative play. What can this board be? How can I use it?
Creates an instant child-size 'space' in any room or setting for quiet-time and contemplation
Challenges your child to move and play physically indoors and on rainy days
Provides a natural scene or stage for small-world play
Invites children of all ages, and adults, to play together
Are all Wobbel boards the same?
Knowing how to choose a Wobbel board is easy with a few simple guidelines. First up, it's worth knowing that every basic Wobbel board is made in the same way, from several layers of high quality European FSC beech or bamboo wood, and finished in a translucent, water-based lacquer (purists can also opt for an unlacquered Original.) There are then a number of different options you can choose from when it comes to the look, feel and overall functionality, of your Wobbel board. In the next section you can read about each specific board and choose which one is right for you, but first here's a heads-up on some of the key features you'll want to consider when choosing the best Wobbel board.
Felt
A felt backing on one side is recommended for Wobbel boards being used in homes with wood or tiled flooring. It brings a layer of protection to your board and dampens the sound of the wood against hard floors. It also provides a splash of colour and a soft surface for dolls and figures when you are in small-world mode.
Choose between traditional wool felt and pressed felt. Wool felt is softest, pressed felt is more durable being made from recycled plastic bottles and is best for intensive use and older children. It's also easier to clean so a good option for people with pets, and of course being wool-free, it's 100% vegan.
Tip: You can still use a board with a felt backing in homes with carpets and rugs. You just get an extra layer of padding!
Cork
Slightly tougher than felt, a cork backing is a good option for use on indoor hard floors as it provides a natural grip. It's also particularly recommended for children aged three and above, as its natural strength adds to the weight bearing potential of the board. Cork also looks and feels super natural. However because of its texture you'll find you can't slide things down a cork backing so easily and occasionally small pieces can break away. .
Colour
Felts come in a range of colours from light pastels to darker shades, all of them muted and natural, to work with the wooden board. Wobbel boards tend very quickly to become part of the furniture at home, so you'll want to think about which colours work best for you and your space. You can also choose between the paler beech wood and richer bamboo boards. Decisions, decisions!
Starter or Original: which Wobbel board should you choose?
So which Wobbel boards do 100 Toys stock? Because we specialise in play for children under five we have the Wobbel Starter and Original boards. These two boards are the best Wobbel boards for babies and toddlers, and provide plenty of room for play and growth beyond the early years. Let's take a closer look.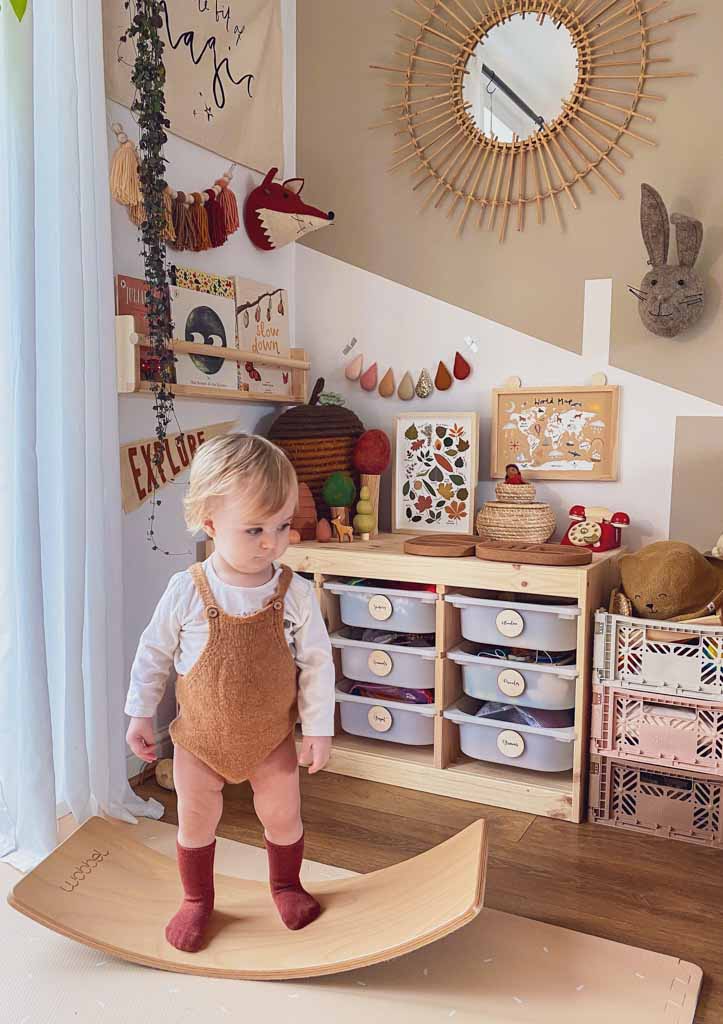 Wobbel Starter
The Wobbel Starter is the smallest board and as the name suggests, the ideal first Wobbel. It's light so the smallest children can carry and manoeuvre it, and thanks to the way the Starter is put together it is flexible and responsive to all the bouncing and bashing you can throw at it. There are no age limits for Wobbel boards but we think this is the best board for babies and your youngest children. The curve is extremely gentle so it has exceptional balance, and a subtle waist with accentuated corners gives it stability when flipped over. A sheepskin or a favourite blanket can transform this into a lovely rocker for storytime (never leave a baby unsupervised on a Wobbel board) and it makes a great bridge, space ship, car ramp or boat in your imaginative games and small-world play. Choose plain lacquered or with a recycled felt backing in the colour of your choice.
Dimensions: 70 x 27.5 cm
Weight: 2 kg
Use weight: up to 100 kilos
Best for: babies and smaller children (up to 5 years)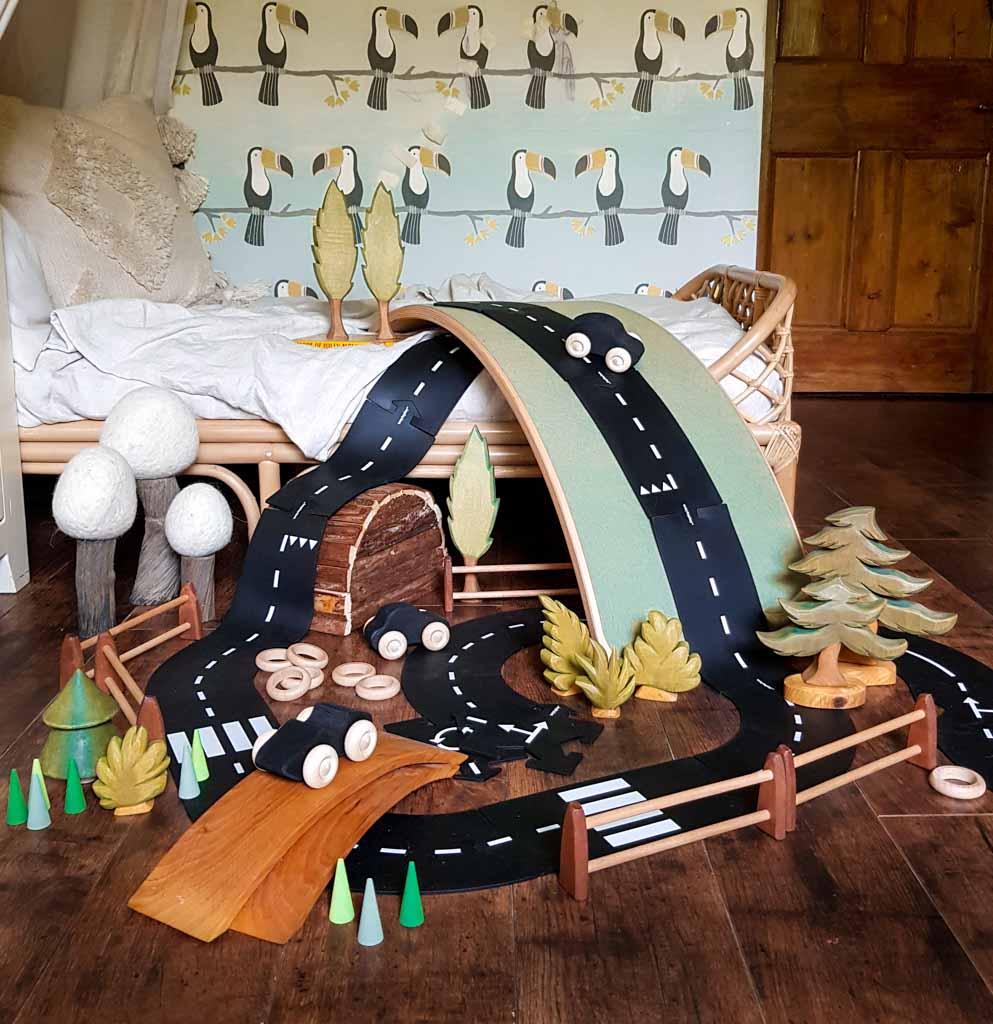 Wobbel Original
The Wobbel Original is the most universal Wobbel board. It's slightly larger and heavier than the Starter but still super-light, flexible and strong – the perfect partner for your growing family. It comes in either a plain beech or bamboo, lacquered or unlacquered finish, and you can have either an eco-felt backing or cork (suitable from 3 years up.) Like all Wobbel boards, the possibilities for play are endless: use it as step when you're cooking, a ramp for skating, a stage for your shows, a roof for your den and even a sledge when the snow comes. Throw a cosy sheepskin over and you have a lovely rocker or even a footstool.
Dimensions: 90 x 30 cm
Weight: 4.5 kg
Use weight up to 200 kilos
Best for: children up to 7 years
Wobbel board play ideas
How do you play with a Wobbel board? is a question we get asked a lot. Because they are open-ended toys, we can't really tell you how to use your Wobbel boards, that would spoil the fun! But here are some of our top suggestions for playing with a Wobbel board:
Wobble on it! Simply standing on a wobbling the board around is a surprisingly absorbing activity and a great workout for gross motor skills. See if you can move it in circles or travel across the room on it. If you have a willing pet or a sibling who wants to hop on board even better.
Make a den. The board provides an excellent roof for a den or a door to a bunker.
Use it as a shield. It is a well known fact that Roman soldiers and knights of the Round Table all used Wobbel boards to protect them in battle. Combine with silks for authenticity.
Use it as a table for your tea parties with teddies and dolls. Or as a desk at the doctor's or a counter in a shop – any surface in imaginative play.
Use it as a ramp or bridge in your vehicle play
Use it provide a stage or a backdrop in your small-world games. Draped with orange silks it's a desert, or green and it's a mountain.
Pile it with cushions and use it for quiet time and reading.