Open-ended play is brilliant.
It encourages experimentation and perseverance and keeps your children busy for hours, buying you the time to have five minutes' rest and a nice cup of tea. In this guide we'll look at how you can get more of it in your life.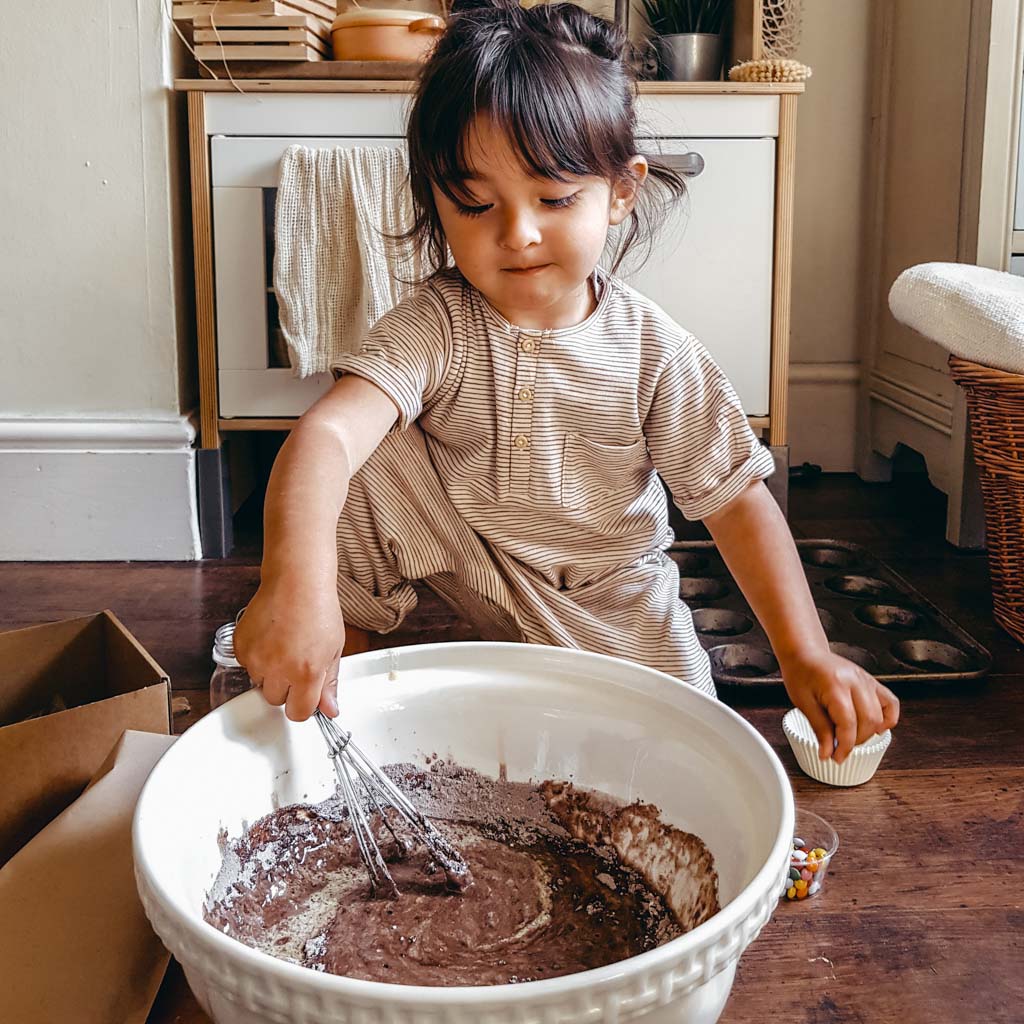 What is open-ended play?
As a child, do you remember the feeling of just sitting with a material, of exploring it, without any end-goal in mind? It could have been pebbles, water or wooden blocks, sand, fabric or play-dough. The point is that you didn't know what you were going to do when you started, only that you felt the urge to experiment.
Open-ended play is play for its own sake, play without boundaries.
When you decide to complete a puzzle or play Snap!, there is only one way to do it. These games are closed-ended. There is enormous learning value to such activities – many require great skill to complete and you also learn how to finish tasks, follow rules and take turns. But these are distinctly different skills to the ones developed through open-ended play.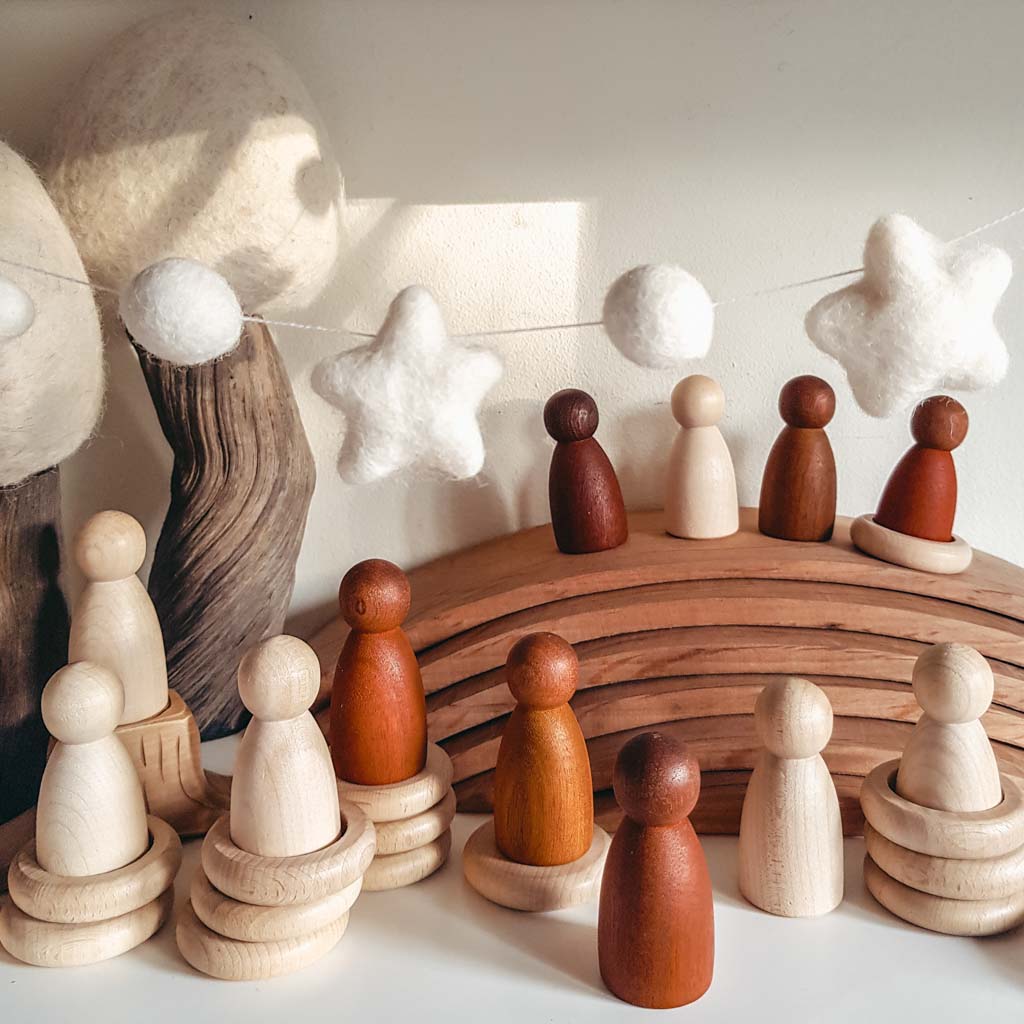 Why is open-ended play important?
The benefits of open-ended play are enormous. It:
Challenges you to use your imagination, to investigate and to problem-solve.
Encourages independent play, without the safety-net of instructions.
Develops confidence and inquisitiveness, patience and resilience, skills that feed into every aspect of school and life beyond.
Lasts for extended periods of time and often stretches over several days.
An example
I wish I could show you a photograph of my second son sitting on a chair in my living room. It's one of my proudest moments.
But the room is a mess.
It gets that way in the 100 Toys house sometimes. The blocks come out. And then we need some more. And then it seems like a good idea to tip everything out onto the floor.
Also, he's in his underwear and there's a roaming toddler in a nappy. So we'll have to make do with a picture of the object itself. But – trust me – he sat on it, with the baby in his lap, and it worked perfectly.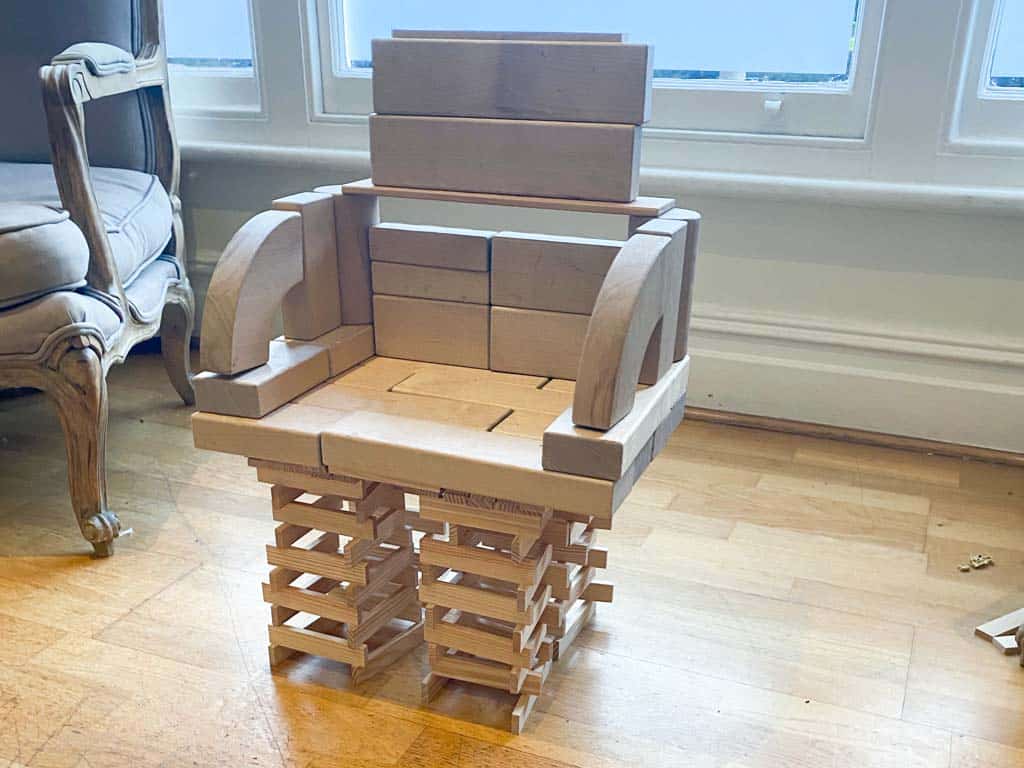 He did it with no help from me, coming down one morning, finding the blocks and getting to work.
At first he simply made a KAPLA tower. Then he built another one alongside it.
At this point I don't think he had a goal in mind. He was enjoying using a new construction technique he'd learnt the day before.
Somewhere along the way it occurred to him that the towers could support a platform. Maybe he was thinking of making a bridge (he'd been experimenting with this recently). So he spanned the gap.
But something about the structure reminded him of a table; two more legs and there it was.
"It looks like a stool," he said. "I'm going to sit on it."
Careful, I thought. I don't like the look of those rickety legs. But I bit my lip.
"It works!"
From there, it didn't require a great leap of imagination to add a back and finally the arms.
The chair was complete – and completely unexpected.
Hooray for open-ended play! What a triumph! And it was the work of just a few minutes.
This kind of play is only possible when you offer materials that encourage exploration and make them available month after month, year after year.
Can you imagine him making that chair if he'd spent the past five years in front of a screen? Me neither.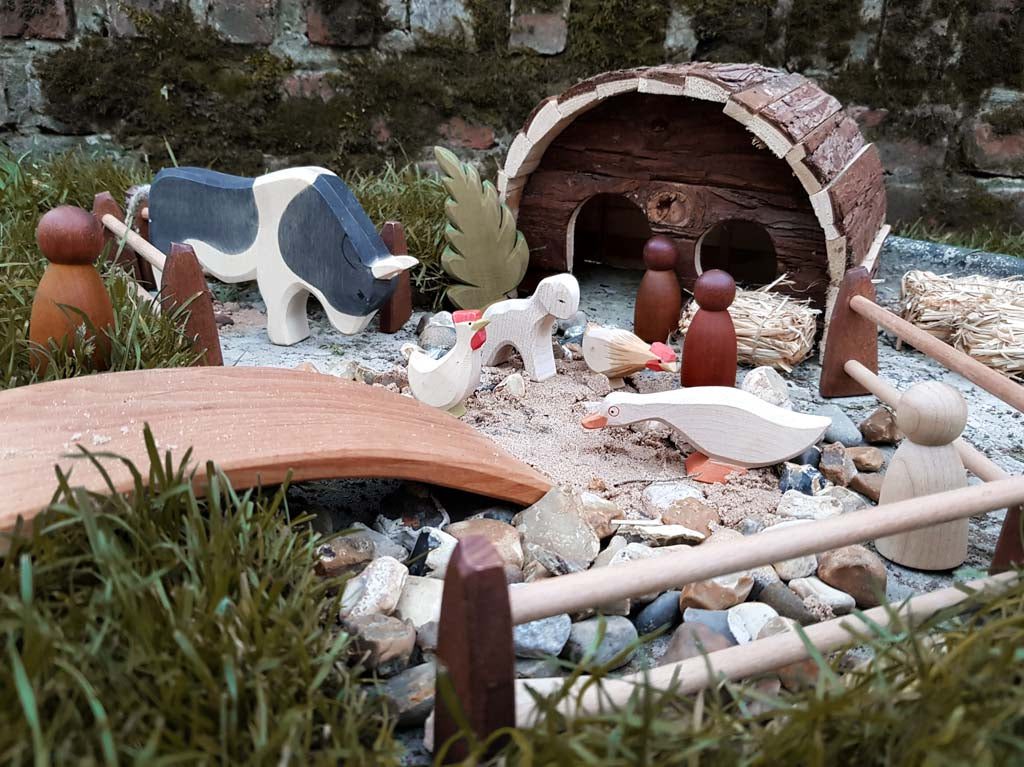 The best open-ended toys
1. Blocks
If you buy just one toy, make it a set of blocks. Endlessly useful, they form the backbone of any toy collection. In fact, if you only buy two toys, they should probably both be blocks. There's nothing more frustrating than having a brilliant idea, embarking on the construction of it only to run out of pieces halfway through. Can you imagine how No. 2 son would have felt if he couldn't complete his chair in the example above?
There are so many different types of wooden blocks for children, from colourful or natural wood to perfectly square or irregular shapes. Whichever you choose, a good set of wooden blocks is one of the most essential toys for open-ended play. There simply isn't a more versatile or durable toy. With blocks your child has the scope to build, sort, carry, count, create and imagine. Blocks are the definition of open-ended play. Read more about block play.
2. Playsilks
Strong, versatile and a sensory delight, a playsilk is one of the hardest working toys there is. Silks can be used for dressing up but are also useful for creating scenery in small-world play, making pulleys, streamers and just about anything you can think of. Silk is a durable and easy-to-wash fabric that small hands can easily get to grips with. Read more about play silks.
3. Wooden figures
Figures have been a childhood essential long before toys were invented. How much fun can be had with a simple stick man? In the 100 Toys house, No. 4 (aged 2y 8m) can suspend her disbelief to the point where she'll happily hold a toothbrush in each hand and make them have a conversation. A selection of simple, unmarked play people offers children the chance to make up their own characters and stories entirely from their imagination. The best play figures for open-ended play are those with little or no characterisation, that are gender neutral and can therefore be any type of character your child wishes. Read more about wooden figures.
4. Dolls
Take a pencil and some paper. You've got 60 seconds. Write down as many scenarios as you can think of.
Picnic
Lost in a crowd.
Mummies and daddies
New baby
A trip to the doctor's
Broken arm
Mean friend
Sleeping Beauty
Vet
And many more besides.
If you don't have a doll, a soft toy will do – or almost anything else. In the 100 Toys house, the role of the baby was once played by a bottle of Evian. Read more about doll's house play.
5. Loose parts
Playing with loose parts inspires creativity and problem-solving. Children choose and use the materials as they want, and can experiment without a predetermined outcome or a right way to do things. You can use anything from pebbles and cotton reels to wooden loose parts like those from Grapat. Read more about loose parts
6. Wooden train sets
As well as being a favourite with children exploring their connecting schema, a traditional wooden railway offers limitless iterations and directions and as such is great toy for open-ended play. With a railway pieces can be connected and disconnected, figures added, towns built and forests navigated. And the next day something entirely different can happen. Read more about wooden train sets.
7. Balls
If you are looking for open-ended play activities for babies, a soft ball is a great place to start. Babies can grip and roll and chew a soft ball, and if it has a bell or rattle inside it's a great way to stimulate listening skills. As they get older, balls can be used for simple throwing and catching games. Balls are also king in open-ended play for toddlers who like to use their growing strength and co-ordination to kick and dribble and chase.
Wooden balls bring movement and excitement to otherwise static block play. Make DIY marble runs or mix with stacking toys to play a hand-rolled version of croquet. So many possibilities!
8. Arts and crafts
Whether you draw, paint or cut and stick, the results are different every time. What could be more open-ended?
9. Play food
A teddy bears' picnic, breakfast for one or even in the garden making mud pies. Play food can be served in myriad ways and tailored to almost any occasion.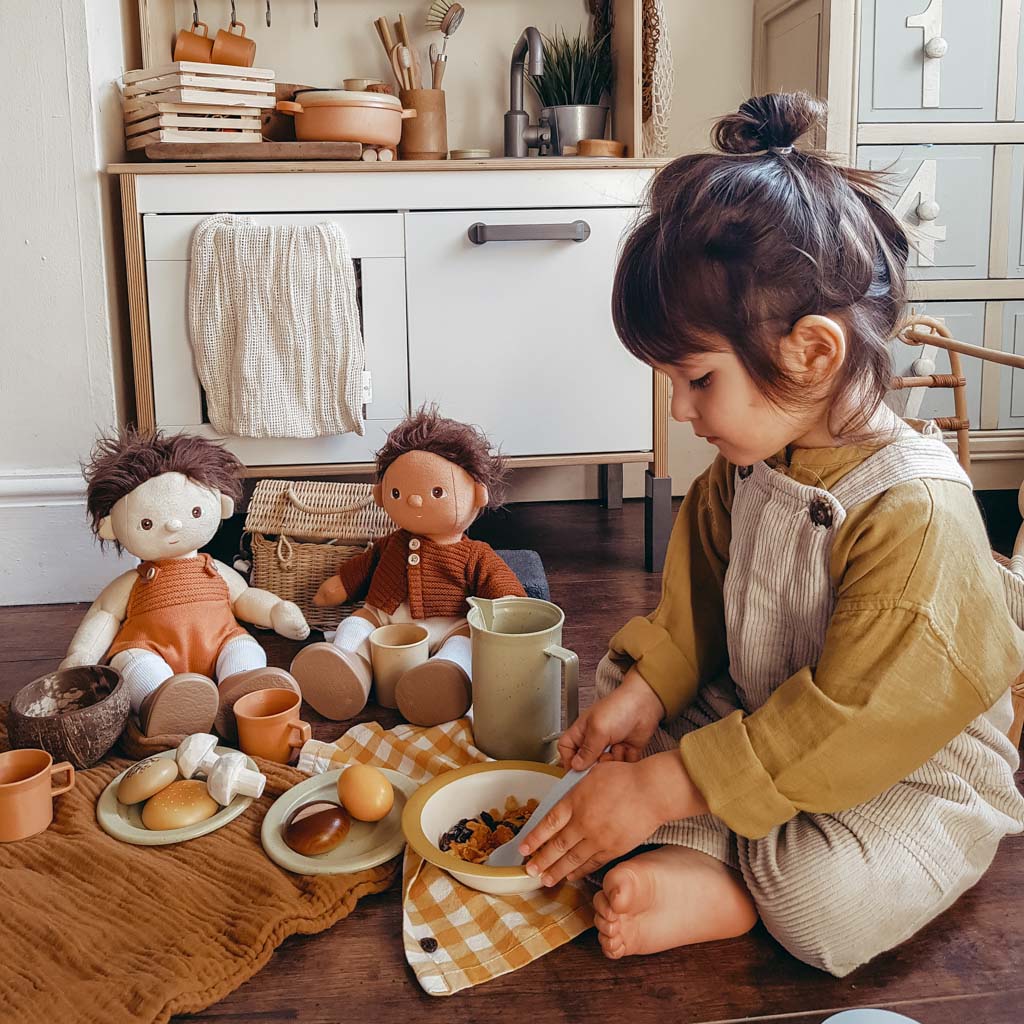 10. Trays
The humble tray is one of play's best kept secrets. Contain a small world scene, arrange loose parts to make transient art, carry food to the tables in your cafe or use as platforms in block play. How many uses can you think of?
11. Doll's house
Who lives in a doll's house? Parents, children, and pets. Who comes to visit? Neighbours, friends, the postman. What do they eat? What do they bring? Does everyone get along? So many stories! As open-ended as life itself.
Read more about doll's house play.
12. Bags, baskets and trolleys
What will you carry? Where will you go? Who lives inside?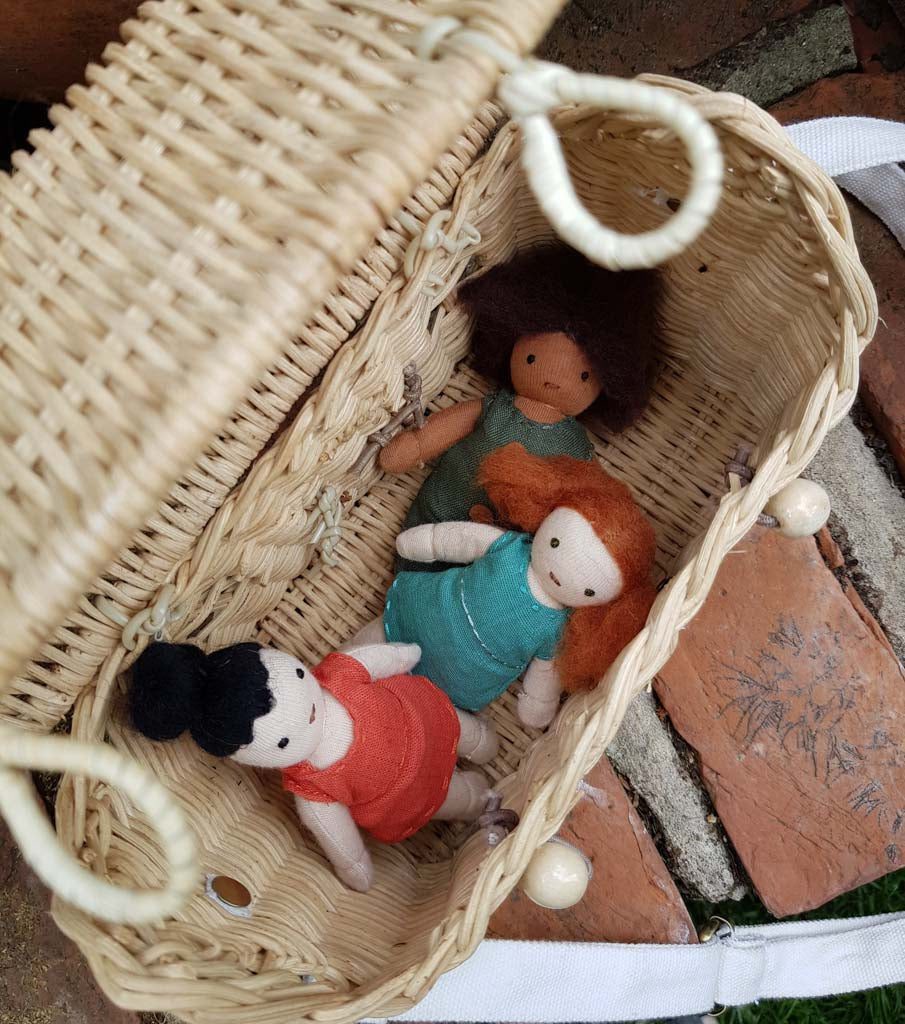 13. Treasure baskets
Getting started with open-ended play when you've got a baby is easy. All you need is a . From the moment your child can sit up unsupported, fill a soft basket with safe, interesting objects from around the home. Make sure the contents are interesting and – most importantly – different from each other. There's no point filling the basket with variations on the same theme. A dozen crinkly activity toys offer nothing new so there's no reason to delve deeper into the basket. Read more about treasure baskets and how you can make your own.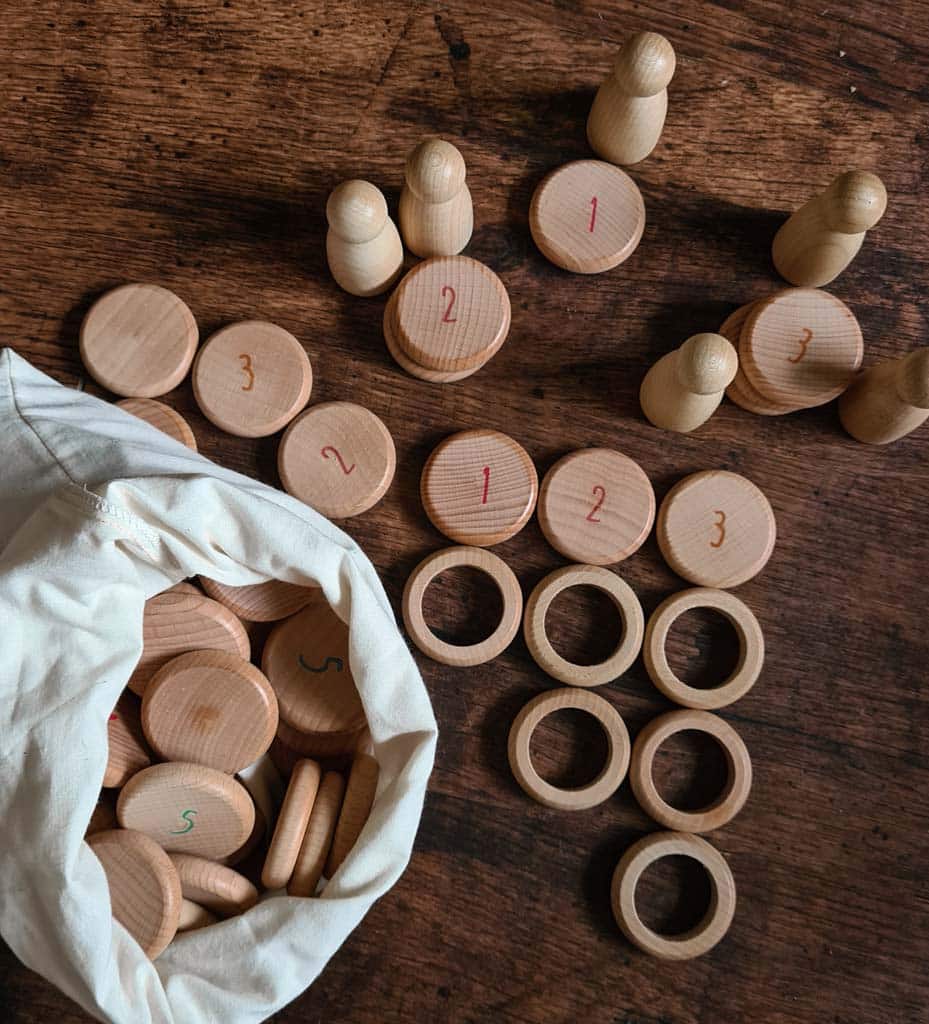 What are open-ended materials?
Open-ended materials are like open-ended toys only cheaper! They are items such as fabrics, liquids, pieces of paper, old shoes; anything you can usually find in your home, and they can often be easily combined with other open-ended materials. Keep a box of them at home and you'll find there's always something to inspire open-ended play. Here's our list of the best materials for open-ended play:
Recyclables (clean!), such as toilet rolls, cardboard boxes and yoghurt pots
Collage materials such as magazines and newspapers
Household items like wooden spoons, bowls and saucepans
String. There's a reason the archetypal school boy has a length of string in his pocket: you can get up to all sorts of trouble with it. If you're worried about safety, stick to short strands, but if you are around to supervise, it's hard to beat a whole ball of string for open-ended capers.
Mark-making materials. Mark making begins with fingers in the sand or on steamy car windows and moves on to chalks and chunky crayons, paintbrushes, felts and eventually pens and pencils. Mark-making is a forerunner of writing and drawing, but it is also an enjoyable open-ended activity for its own sake. Provide the materials and let them get on with it and remember we are not looking for Pinterest friendly results!
Water. Whether it's at bathtime, in puddles or at a specially designated water table or sink, children are mesmerized by the properties of water. Jugs, cups, squeezy toys, sponges, boats and other water toys will have them happily experimenting and exploring for a long time.
Open-ended play outdoors
Mark-making materials such as paint, chalk, charcoal.
Natural loose parts. Pine cones, conkers, acorns and seeds. Collect in a basket, make transient art or see how many you can get into a flower pot from two metres away.
Sticks.
Mud. Like sand, but better. Sticky when wet and full of life and mystery. Build walls, channels, mud pies and homes for beetles.
Stones. Nature's first building blocks.
Woodworking tools. Saws, files, hammers and nails. These are a great starting point if you've got a co-ordinated (and sensible!) five-year-old. You'll have to supervise at all times but there's nothing more satisfying for a child than to be doing grown up – and slightly dangerous – work. Showing that you trust them is enormously empowering for a child. Start by cutting and connecting wood. Use simple nails. Screwdrivers are tricky to use and the effort required to drive in a screw can be demoralising. Stick to thin off-cuts of soft wood, hammered together with two-inch nails and progress from there. It doesn't matter what you make. The fun is in the doing.
Troubleshooting: when open-ended play goes wrong
You'll know when open-ended play is going well because your child will be deep in thought, lost in their explorations and experiments.
But open-ended play doesn't always go to plan! Here are a few common hurdles and how to clear them:
Problem: the mess
Open-ended play can be messy, especially when paints and craft materials are involved. Resist the urge to tidy around them during open-ended play. Tidying can be distracting and ruin their train of thought. Accept that there will be some mess and enjoy the time to yourself!
Alternatively, if you're like me on one of my grumpier days, limit the number and kind of materials available. If we're about to receive guests, it's probably not the time for unfettered access to the craft box.
Problem: the effort
It can be tempting not to get the open-ended materials out, perhaps (especially if they are paints or water) because they involve pouring or dispensing, or because you know the clean-up is going to be big and you are very tired and would just like to switch on CBeebies. Investing your time in the early stages pays great dividends! Keep your eye on the prize (time for yourself, and a child who plays independently) and spending a few minutes to set them up won't seem such a big task.
Problem: running out of time
Open-ended constructions with blocks or junk modelling materials, and small-world settings, can inspire play that goes on for hours and days. If you have space, encourage them to build somewhere low-traffic in your house (ie not the kitchen!) where their things can remain over a long period. If space is tight, a tray (see above) or a big cardboard box with the sides cut down, makes a portable space for their constructions and creations, that can be returned to over time.
Problem: boredom
If they've been playing with the same tub of blocks for a while and start to seem disinterested, try toy rotation to keep it fresh and stop play getting stale. Introduce new items over the course of the day or the week (not new, just not seen for a while) to spark new challenges and creativity.
Final word
Let your child take the lead. It's not open-ended if you're taking charge or setting goals!
Allow mistakes and mess to happen. Since there is no end-product in sight, open-ended play is relaxed. Tidying as you go may ruin their train of thought.
Don't help your child fix something or do it 'the right way', unless they ask you for help.
If they do ask for help or you want to help maintain momentum, try to get them to solve the problem first. Open-ended questions are most useful because they have to think about the answer. Why is it like that? Who could live here? How will it stay together? You'll know it's going well because your child is deep in thought, lost in the activity.