Why do children love to play with Maileg?
Is it that the mice in matchboxes are just so adorable? Or is there something developmental going on?
The world of Maileg characters is huge. From dancing bunnies and cuddly hippos, to doll's houses and race cars, the focus is on gentle, small-world play, full of nostalgic detail and soft, natural materials that children love to play with.
But it's not the charm of the characters that makes them so rewarding to play with: it's that they are grouped into families. There are implicit relationships between the toys. You can imagine there is a back story. Perhaps the brother never tidies his room, Grandpa always falls asleep in the armchair and the baby is constantly hungry. In all probability, their lives closely reflect your own.
How do you pronounce 'Maileg'?
It's My-lie (rhymes with fly). Maileg was founded by the award-winning Danish illustrator and designer Dorthe Mailil and the name is a mixture of her surname and 'leg', the Danish word for play.
What is Maileg?
Maileg make dolls and doll's houses with a whimsical charm (mice who live in matchboxes and dancing bunnies who lounge on daybeds in gold tutus) and meticulous attention to detail in their clothes and accessories. Buttons, bows, blankets and other items are all hand-sewn, with fabrics and materials in soft, muted colours and textures. The result is a collection of toys for girls and boys that feels at once homespun and traditional, while also having great humour and bags of fairytale magic.
How do you play with Maileg?
There's a theme of nurture and caring running through almost every Maileg character. This, along with their dreamy accessories and props such as matchbox beds, camping tents and motorbikes, makes them the perfect toys for small-world play. The smaller, more enclosed cousin of imaginative play, in small world play children are free to imagine and narrate their own stories and dramas, all on a child-size scale. It allows children to explore events in their own lives, helping them to make sense of the world around them.
Playing with Maileg can also be something you do together. All children enjoy quiet time alone with their toys but sometimes it's nice to collaborate. In fact, it's one of the most important ways that we learn. Social constructivists believe that children learn through interactions with a more knowledgeable 'other'. It could be an older child or adult though it can also be a peer. Look out for a blog post on this topic soon.
Does your child talk to herself while she plays?
And there's one more thing, something you'll only notice if you stop and listen as your child gets deeper into her play: private speech. This is the magic ingredient in preschoolers' play and it's the key to unlocking a number of new skills. You can read more about it here.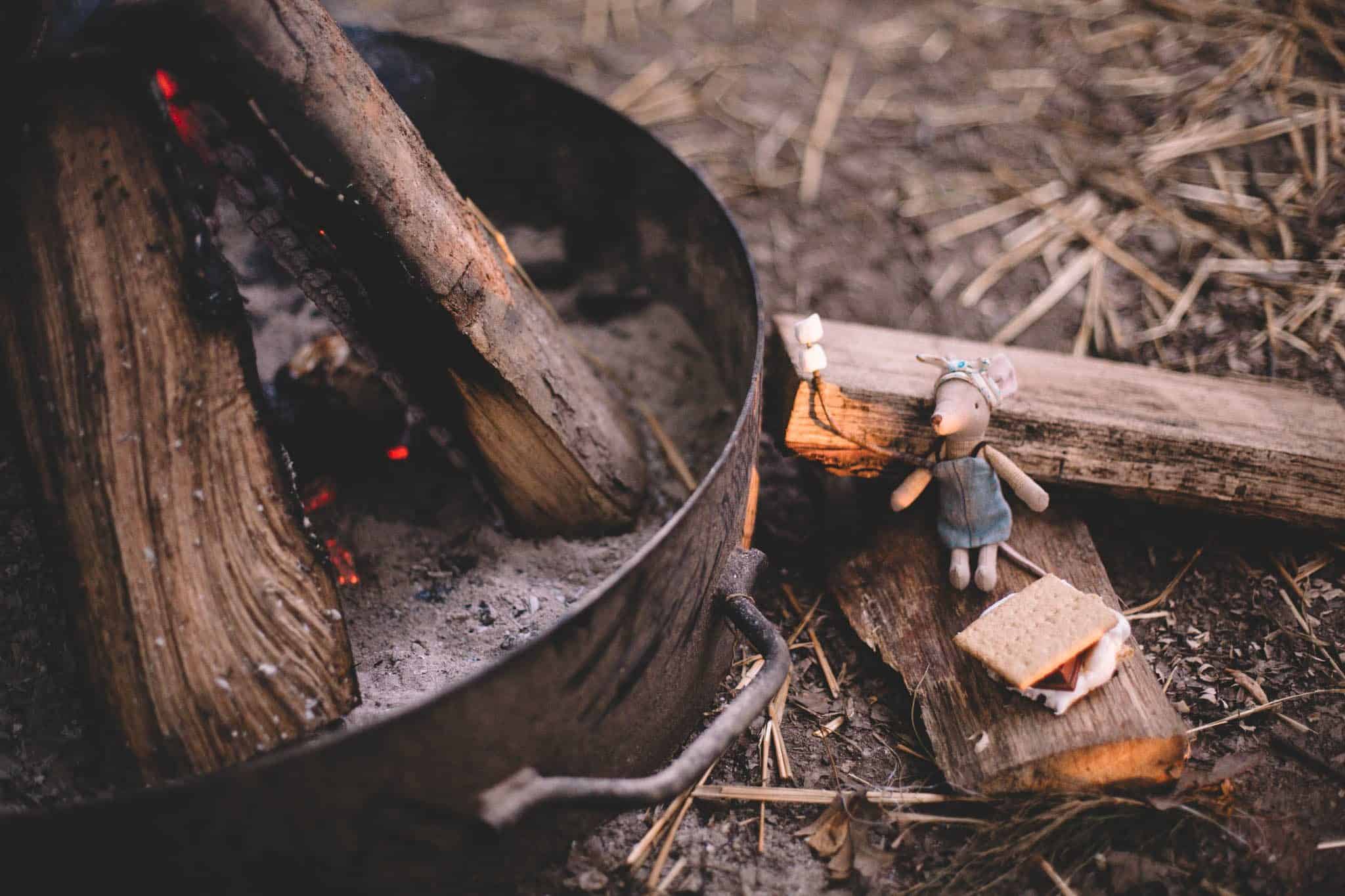 Lunchtime: re-enacting scenes from their everyday lives helps children make sense of their worlds
Create small worlds to maximise play potential
Get a doll's house (or not)
The Maileg doll's house inspires many hours of small world play and it is big enough to house both bunnies and mice.
But you don't always need a dedicated space. Children will use any nook or cranny for small world play. A shelf, a shoebox or even just a shoe will do just fine.
Boxes are particularly good because they're both portable and easy to decorate. Cut out windows and doors, paint the walls. The choice is yours.
In fact, a number of Maileg toys come in their own kind of small-world setting. For example the Maileg book house offers a small, self-contained space inspired by books and stories, where small world play can unfold. Even the Maileg matchbox mice, come in their own little beds with pillows and blankets that can be their own little universe.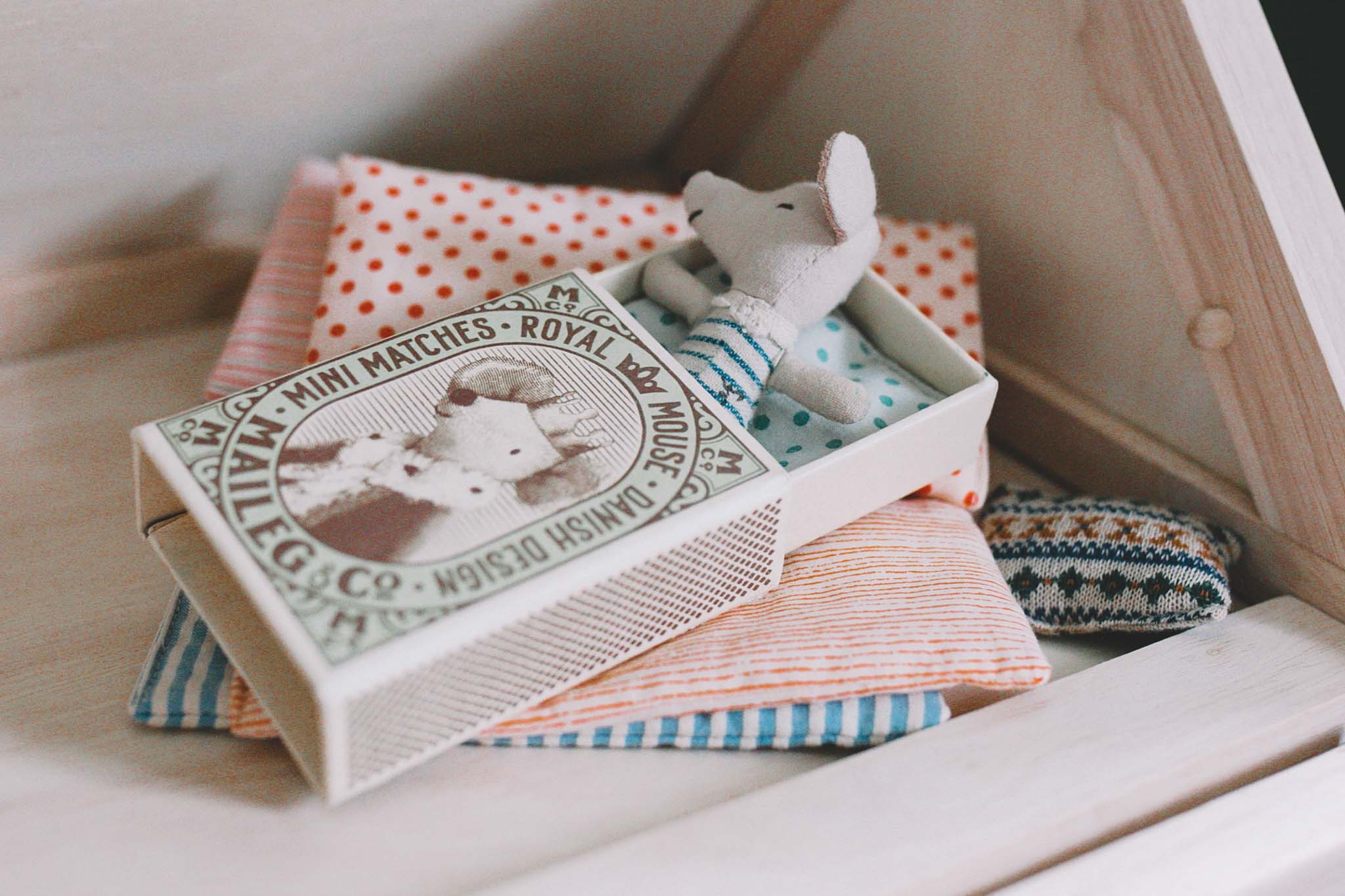 Matchbox world: boxes, shelves and other nooks and crannies can become spaces for small world play
A pocketful of Maileg
It might seem that Maileg makes an unlikely travel toy but the mice make perfect companions, fitting snugly into pockets and bags. Or choose a boxed set like the Princess and the Pea for a readymade small world. It's the perfect way to get lost in storytelling and make the hours pass more quickly on long journeys.
Take your Maileg outside
Outdoor play with Maileg mice and other toys is easy. They are often dressed for good old fashioned adventures, with hats and coats, tents and knapsacks, prams and strollers among other clothes and useful items. Don't be afraid to take them outside and stage small world settings in the great outdoors. Make a campfire with a few stones and an orange adventure silk, or take a trip to the park with a mummy mouse, a pram and a picnic basket; you'll find the natural hues and shapes of Maileg toys seem very much at home in the garden and other outdoor spaces.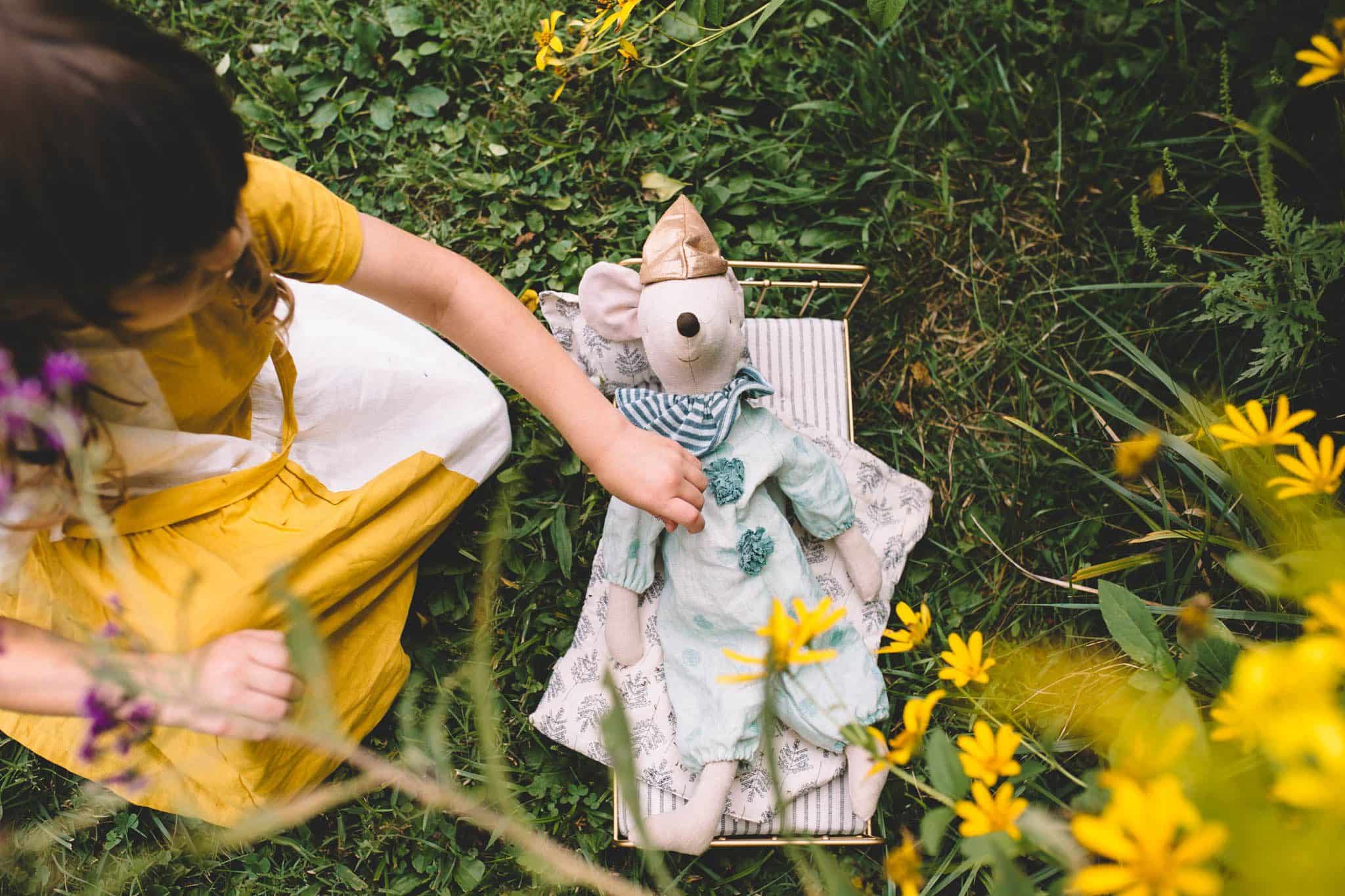 Clowning around: Maileg mice love getting outside and having fun
Telling stories with your Maileg
Making up stories for your Maileg characters is easy: all the material you need comes from real life. Mothers, fathers, children, grandparents. There is usually enough going on between three or four people to provide all the dramas and events you need. It's nice to build a collection of mice and bunnies but – for the purpose of play – it's not strictly necessary.
Once upon a time: Classic fairytales can be re-enacted with princess mice or make up your own new versions for extra fun
How big are Maileg mice?
Maileg sizes can be confusing. Check out our guide to Maileg sizes to see which one is right for you.
Mice or bunnies – how do I choose?
Maileg matchbox mice in all their iterations are at the heart of the brand but if mice aren't your thing, there are many other characters to love and play with. Maileg bunnies and rabbits have long legs and arms, making them easy to hold and move around. Like their mice friends, they come in a range of sizes and are always dressed for fun, in rompers and dresses and dungarees all finished in immaculate detail.
The general rule is mice for doll's houses, rabbits and bunnies for companionship. There is some crossover, however. The smallest rabbits (sizes 1 and 2) live quite happily alongside the mice in the doll's house, and some of the furniture is designed specifically for them. See the size guide, above, for precise details.
There's also a collection of soft kittens and rabbits who each come in a pretty cardboard tube, making them lovely gifts for newborns and birthdays. And there are a number of pleasingly dumpy soft toys including hippos, pigs and rhinos, who sit up on their back legs and give excellent cuddles in even the smallest of hands. Soft toys provide reassurance and a friend to love for even the smallest of children. Find out more about why soft toys matter here.

Maileg loves ballet and fairytales
Ballet and magic are two big recurring themes in Maileg's family of characters. Ballet in particular features frequently, with many dancing mice and bunnies in tutus, dance studios with mirrors and barrs, outfits to change into and even luggage for touring.
Maileg to the rescue!: superheroes, magicians and fairies are also major Maileg themes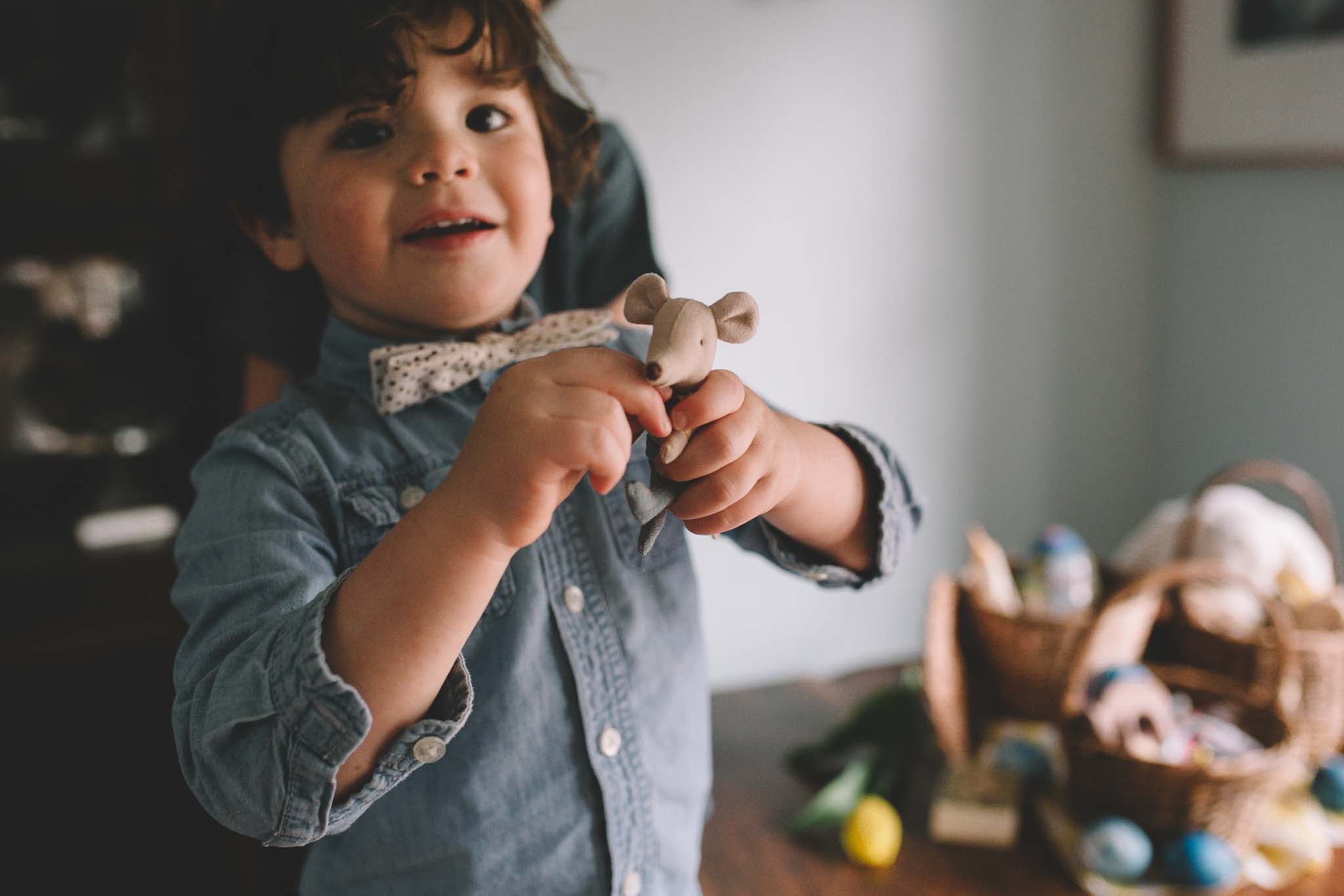 Of mice and boys: Maileg's male characters don't promote unrealistic masculine stereotypes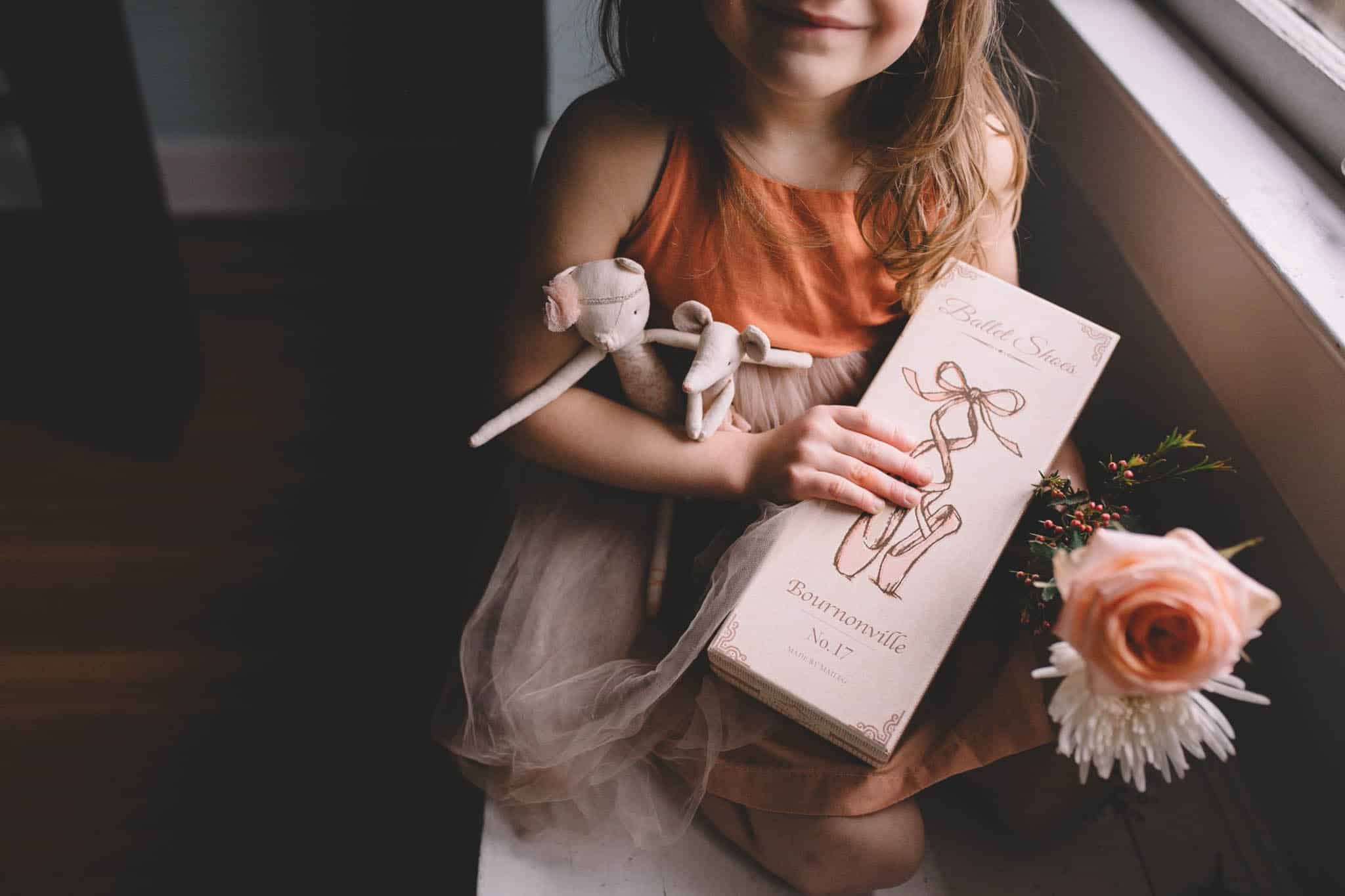 Toy recommendations
The beautiful packaging means that many Maileg toys are readymade gifts.
Dancing Cat and Mouse in Shoebox
Mice in matchboxes
Jungle friends in tubes
Bunnies in boxes
But Maileg is about more than just a pretty box.
For babies
When you are six months old, the world and the objects within it are there to be discovered. You are testing the properties of materials and how to reach for and grab things. You are focused on the here and now.
Objects are what they are. Symbolic play – making one thing stand in for another – is years in the future. Give your baby a Maileg mouse and doll's house and the only thing she will do is post the figure through the windows and doors. Repeatedly. For about the next year…
That's not to say that a Maileg toy won't be loved. Simply that you should choose with care and not expect to get full use from it until your child is a little older.
One of the most pleasing things in the 100 Toys house is seeing cuddly animals given as gifts to a newborn return for teddy bears' picnics after a couple of years at the back of the toy cupboard.
Having said all that, if you're looking to buy something for a child under one, your focus should be on soft toys. Someone to cuddle, grab and chew.
For toddlers
What's the right Maileg for a toddler? They're becoming too old for heuristic play but are still too young for the kind of imaginative play that the dolls are made for. So what to do?
What's required is a companion. Larger than a mouse. Someone to carry around, to feed, to dress and to start having conversations with.
Rabbits and bunnies
Soft toys and dolls
For preschoolers
Three to five is the golden age of small world play. It's the perfect time for a doll's house. And if you're like me, you can sit outside your child's room – just out of view – and listen in on all that fascinating private speech.
Doll's house
Mice in matchboxes
Princess and the Pea
Camper tent and hiking mice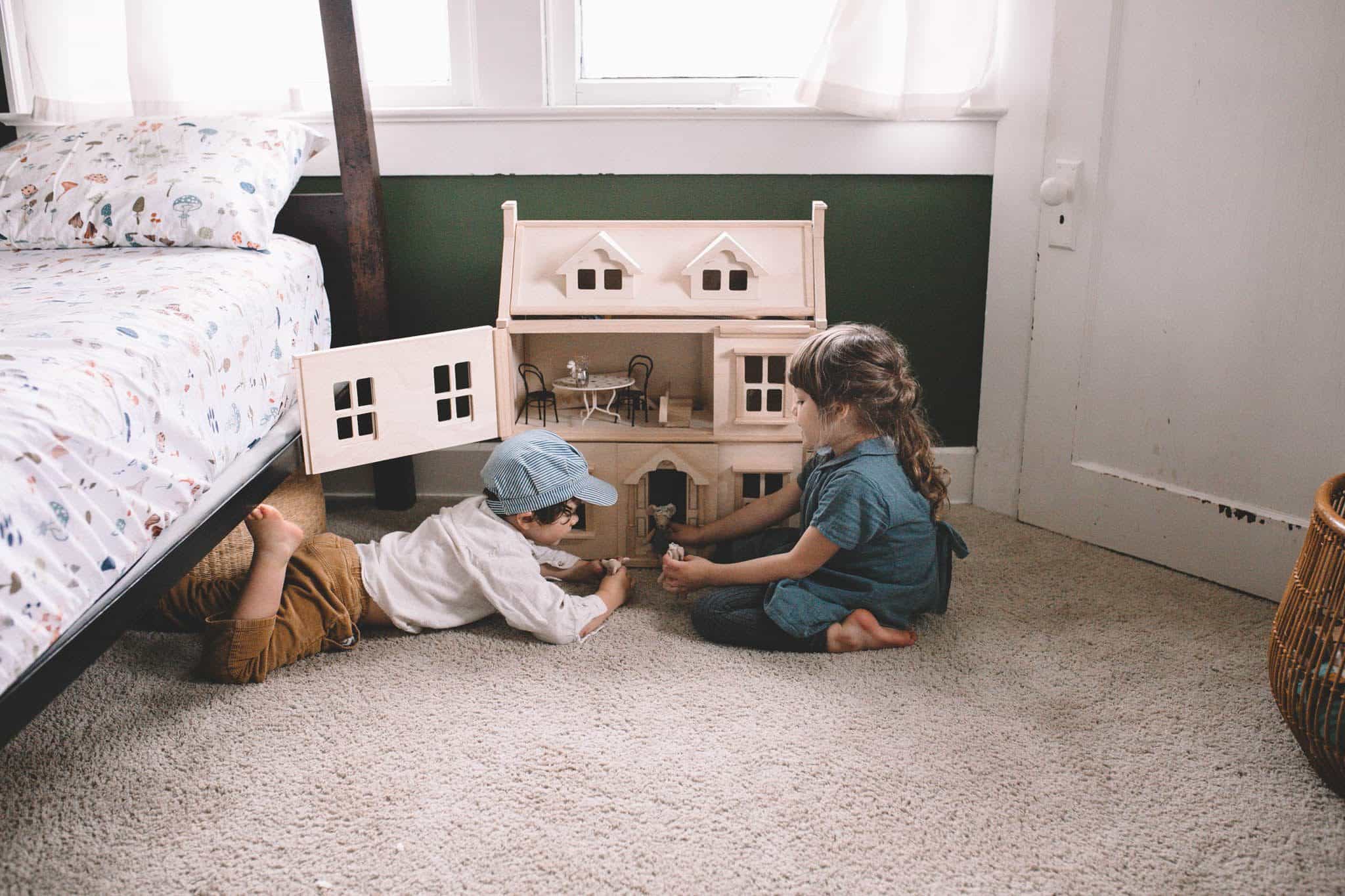 Final word
There's something about Maileg that's reminiscent of bygone days, a time when childhood was simpler and more wholesome. Listening to my children talk to themselves as they play brings back memories of my own small world games. We may not be able to return to the days before screen time but an hour engrossed in small world play feels like a step in the right direction.
We used to sell toys
Once upon a time we sold toys but now we focus on play. You can still read our popular guides and product reviews and there's a treasure trove of information on the blog.